Holding Fast's goal is to provide commercial-free viewing across all our material, to include Mission Bible Church worship services and bible studies.
Instructions
To view the live event, click the play button. If you don't see a play button, hit your browser's reload button (i.e., reload the page). Click the bottom right [ ] symbol to make the video full screen. Be sure to unmute the audio when the video first appears.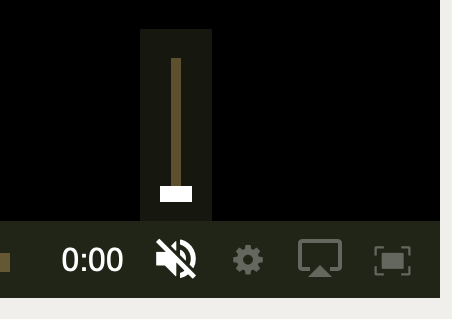 Start Times
MBC Bible Study: 10:00 a.m. Eastern Time, Sunday
MBC Worship Services: 11:00 a.m. Eastern Time, Sunday
We usually start streaming 5-10 minutes before the start of each event. If there is no video after 15 minutes, it is safe to assume the event has been cancelled (due to illness or the like).
Joining late? No problem! The site supports rewinding up to 30 minutes. Slide the progress bar (bottom of the video) back to any point, and hit play.
Support
Both Mission Bible Church and Holding Fast rely on viewer contribution to support the ministry. Consider donating to us, on either the MBC Support or HF Support page.
Troubleshooting Tips
Google Chrome and Internet Explorer work the best, while Safari on iPhones and MS Edge have a few problems with workarounds (see below).
Q1: I see an image, but it's not moving.
A1: Click the "play" button, at the bottom left of the image (in Safari); or, reload the page.
Q2: The video has an error message, "The player triggered an error. Something went wrong during native playback". What do I do?
A2: The study is offline, and the 30-minute rewind of the prior session has been erased. Keep refreshing the page until the stream starts.
Q3: The screen has an error message, "An unanticipated error was encountered".
A3: Reload the page - the video had problems starting. If the error occurred near the end of the Event, then the video got cut short ... and the event is over.
Q4: The screen has an error message, "We are offline, either wait a bit or come back next week at the same time."
A4: That means the Event video stream hasn't started yet, or has already ended. Click the refresh button (circle-arrow, top right) every few minutes. If no video appears 15 minutes after the start time, then it's cancelled for that evening. If the video is streaming, click the check mark to dismiss the error.
Q5: I missed a live event! How do I watch prior Events?
A5: Navigate to the Series (or Topic) covered, and you'll find it there within 24 hours. We endeaver to post the study as soon as possible, but give priority to in-person Event activities.
Q6: The full-screen button doesn't work on my phone.
A6: This is a known issue with the streaming provider Akamai. A workaround is to turn your phone sideways to most closely align to full screen.